Phonological Awareness, Phonemic Awareness, Alphabetic Principle and Phonics… I'm confused!
PHONOLOGICAL AWARENESS
Phonological awareness is about the sounds we hear, not the print that we see. You can close your eyes and work on phonological awareness tasks! "Phonological awareness is an important and reliable predictor of later reading ability and has, therefore, been the focus of much research." Wikipedia
What can a parent do? Provide a language-rich environment for your child. Read stories. Sing songs. Repeat nursery rhymes. Talk and play.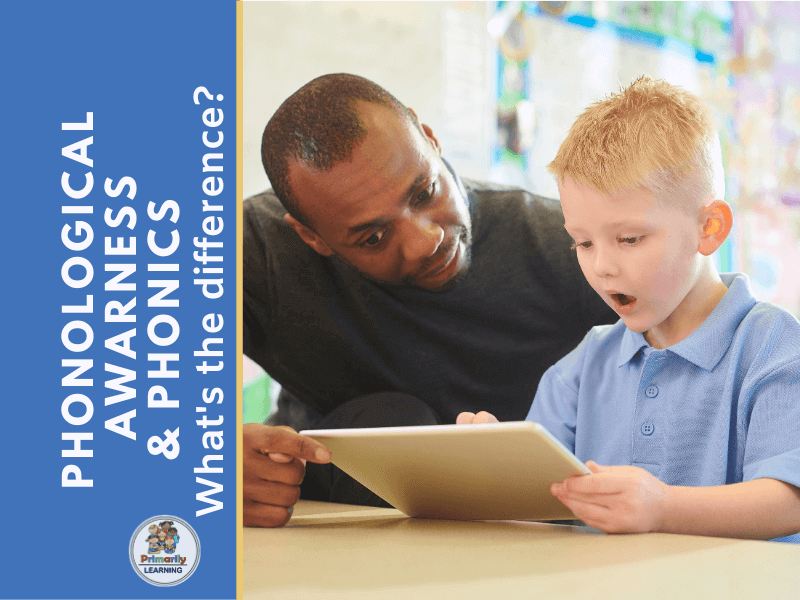 Phonological Awareness uses Auditory Processing Skills to:
Hear and Make a Rhyme
Do these words rhyme? e.g., cat/hat; mouse/house; shoe/ship
Make a rhyme. e.g., What rhymes with tall? (ball, fall, crawl)
Fill in the missing rhyming word. e.g., Jack and Jill went up the ____. (hill)
Quick Tips: Read rhyming books. Repeat nursery rhymes. Song songs. Find out the 6 Benefits of Repeating Nursery Rhymes!
Create Alliteration
Find words that start with similar beginnings (alliteration) e.g., The pied piper picked a peck of pickled peppers.
Quick Tip: Introduce tongue twisters! e.g., She sells seashells by the seashore…
Segment Sentences
Count the number of words in a sentence. When we speak, the words flow together. In a book, words are separated by a space. Try to talk like a robot and say each word in a sentence. e.g., I like to ride a bike. How many words were used?
Repeat a sentence. Place a marker on the table for each word you speak.
Quick Tip: Go on a sentence walk! Take one step for each spoken word in the sentence.
Develop Syllable Awareness
Clap the syllables in a word.
Count syllables in words. e.g., How many syllables are in the word ball? (1) ti-ger (2); el-e-phant (3)
Go on a Word Hunt! Look for words that have a specific number for syllables.
Quick Tip: Put your hand under your chin. Say a word. As you say a vowel sound, the chin drops to the hand. How many syllables did you count?
Blend and Segment Compound Words
Create riddles to discover compound words. What is a house for a dog? (doghouse)
"Say houseboat. Now say it again, but don't say boat." (house)
Quick Tip: Create a list of compound words.
Blend the Onset and Rime
Play with the onset (all the letters before the vowel) and the rime (the rest of the word).
"What's my word, f-oot, b-all, s-un, ch-alk, d-og, str-ong, sh-ip?"
Quick Tip: When you are walking outside, play, "What is it?" Ask, "Can you find the d-og?" "Can you find the b-ench?" "What do I see? It's a ch-imney."
Phonological Awareness includes the auditory activity that is known as Phonemic Awareness.
PHONEMIC AWARENESS

is part of Phonological Awareness but connected to Phonics!
Phonemic awareness is a subset of phonological awareness. It refers to the detection, blending, segmenting, and manipulation of the sounds in our language. A unit of sound is called a phoneme. This is an auditory task.
"The National Reading Panel has found that phonemic awareness improves children's word reading and reading comprehension and helps children learn to spell. Phonemic awareness is the basis for learning phonics." Wikipedia
What can a parent do? Play with the sounds of your language blend, segment, and isolate sounds in words.
Auditory Processing and Auditory Memory Tasks
Kids who have strong Phonemic Awareness can:
Detect Phonemes
Listen to hear the sounds in words. e.g., "Can you hear a /c/ in cat? (yes) Can you hear an /oa/ in tap? (no) Where do you hear the /n/ in man?"
Blend Phonemes
What's my word? Say the sounds of the word. (e.g., /c/-/a/-/t/; /d/-/o/-/g/; /h/-/or/-/se/; /ch/-/ai/-n/; /s/-/t/-/o/-/p/)
Segment Phonemes
What sounds do you hear in the word 'net? (/n-/e/-/t/)
Manipulate Phonemes
Say the word sheep. Now change the /sh/ to /d/. What's the new word? (deep)
OR Say the word cow. Now change the /c/ to /w/. What's the new word? (wow)
ALPHABETIC PRINCIPLE
The printed alphabet is introduced. The reader learns to connect the printed letters to the letter sounds.
What can a parent do? Draw the reader's eye to environmental print. Cereal boxes, street signs, road signs, titles for television programs, board games, and tags are examples of environmental print.
PHONICS
Phonics is the combination of the printed letter and its sound, "Phonics is a method for teaching people how to read and write an alphabetic language ." Wikipedia
It requires both auditory tasks and the visual processing of letter and letter combinations. Phonemic awareness is an understanding that there is a relationship between the spoken sound (phoneme) and the letter(s) that represent them (alphabetic principle).
"The National Reading Panel in the USA concluded that systematic phonics instruction is more effective than unsystematic phonic or non-phonics instruction." Wikipedia. It follows the Science of Reading.
What can a parent do? Start connecting letters and sounds! e.g., Your name is Dave. Dave starts with /d/! I like Cheerios. "Which label says, Cheerios?" "Why do you think that?" (It started with /ch/. It ends with a /s/ sound.)
Phonics Activities connect the sound to print.
Now we need the eyes to see!
read and write the sound

to recognize and connect the letters to the sound
to discriminate among the printed symbols p d b q; r h n

read and write the word
learn tricky words with a "look and say" approach
read and write phrases
read and write sentences
improve fluency
develop comprehension skills
Quick Tips: Play games with words! Pull sounds from a hat. Look for words with a magnifying glass. Can you read the simple phrases found in a plastic egg?
Phonics provides the CODE for the language. It is the key to learning to read and write.
Systematic/Sequential Phonics
Start with the smallest parts of the language and build on that foundation.
Play with the sounds of your language.
Learn the sounds before the letter names. Read and write the sounds.
Discover digraphs. (A digraph is two letters that combine to make one unit of sound. e.g., /ch/, /ai/, /th/, /oo/, /ee/)
Use the sounds to blend and segment simple CVC (consonant-vowel-consonant) words like /c/-/a/-/t/.
Add words with four letters so more. (e.g., /ch/-/i/-/p/; /sh/-/ee/-/p/, /b/-/e/-/l/-/t/; /s/-/t/-/o/-/p/)
Identify alphabet letters by names.
Learn to read and write tricky words with a look and say approach.
Read and write simple phrases.
Create and read sentences.
Add more words as you learn to read and write a paragraph.
Read and write stories.
Are you looking for ideas for phonics teaching? Check out these 5 Quick Wins for Creative Phonics Teaching!
What is the Difference Between Systematic and Analytic Phonics? LEARN MORE HERE>>>
Quick Tip: Use music like the Jolly Songs, Jolly Learning Ltd., to connect letters and sounds in the English Language. (Use Chansons Phoniques for the French Language.)
Please feel free to contact me with any questions.
Please add any thoughts or ideas to the comment section! It's great to learn from each other!
Have a great day!
Laurie